My mother's family came to Texas before 1845.
The following article is about her family and is dedicated to her memory.
Copyright 2014 Marilyn Ralls Johnson, All Rights Reserved

In the early 1600, many Catholic Irish Earls fled Northern Ireland, abandoning their estates. James I of England (James VI of Scotland) saw this as an opportunity to settle his Protestant Scottish subjects in Ireland. Placing Presbyterian Scots in an area where religious war raged between the English Anglicans and the Catholics, who both hated Presbyterians, created unbearable conflict. Thousands of these Scots-Irish, including Simontons, moved on to America.

In the early 1700's Theophilus Simonton and his wife Mary Smith left County Tyrone, Ireland with their children and came to Delaware where they lived with Mary's brother. When her brother died, they moved to Pennsylvania. After Theophilus died about 1754 in Pennsylvania, some of his family moved west into Ohio, and the rest traveled south down the Appalachian Mountains into western North Carolina.





Theophilus Simonton's son, William Simonton Sr. (d. 1811), settled near the Fourth Creek Congregation in Anson County, a part of the Granville Grant in the Carolina Piedmont. There he married Mary McKee (d. 1815), and raised a large family. In Colonial times William Sr. was the Constable of the Crown's Court in this District, and his brother, Robert Simonton, was the Magistrate.

Fourth Creek was part of the Patriot Hornet's Nest which stung British General Cornwallis severely. William Sr. was apparently in sympathy with the Revolution as was Robert's son Adam, who served in the Militia. Robert sold his home to his brother William Sr. in 1787, then died in 1788, and his family moved to Green Co., Georgia. Iredell County was formed in 1788. Fourth Creek Congregation was renamed Statesville and became the County seat in 1789.
| | | |
| --- | --- | --- |
| | .......... | William Simonton Sr. once owned this house on Fourth Creek near Statesville, Iredell County, North Carolina. The first courts in Iredell County met here. Originally built about 1750 by his brother, Robert Simonton, the brick house has been extensively remodeled twice. |
Henry Smith Simonton, Sr. (b.1780-84 in NC) was a younger son of William Simonton Sr. (d. 1811). He was married to another a Fourth Creek native, Mary Byers (b.ca 1785 in NC). Mary Byers was the daughter of Capt. James Byers, who served in the North Carolina militia under his neighbor, General William Lee Davidson during the American Revolution. Several Byers wills mention Mary/Polly Byers, her husband Henry Smith Simonton, and their son, Joseph C. Simonton. (1)
At the time of the 1810 U.S. Census, (Henry) Smith Simonton, his wife, Mary, and three males under 10 years were still in Iredell County, NC.






Henry Smith Simonton's family are probably the H. S. Simingtons in the 1920 U.S. Census of Franklin County, Alabama in 1820, and the H. L. Symingtons in 1830 U. S. Census. Henry Smith Simonton has several land records in Tennessee with dates during the 1820's. After 1830 their names appear in many Tuscaloosa County, Alabama records, including the 1840 U.S. Census.



Tuscaloosa County, Alabama


My g.g.great grandfather was William Simonton (died 1859, Texas). In 1837, he was an Alabama State Legislator from Tuscaloosa County, Alabama. He married Eliza M. Halbert on May 11, 1831, in Tuscaloosa. Eliza Melinda Halbert (born ca. 1816, SC, died 1870, Texas) was the daughter of Joshua Halbert, a Baptist minister, and Matilda Nash. A 1842 Alabama petition to sell the land of Joshua Halbert, deceased, refers to Eliza's husband as William Simonton of Montgomery County, Texas. Two of Eliza Halbert's brothers moved to Texas also.

Margaret Knox Simonton, widow of Henry Smith Simonton's brother, William Simonton, Jr., moved from Iredell Co. NC to Tuscaloosa, Alabama, with her daughter, Zilpha Simonton Gould, and Zilpha's four children. Her objective was to get a good education for her two sons. One son died young but the other, Robert Simonton Gould, got an excellent education and taught Math in Alabama before he moved on to Texas. His half-sister, Elizabeth, married Dr. John S. Street and moved to Galveston, Texas.




Next we find Henry Smith Simonton, Sr. and his family in the Republic of Texas where free land was being offered. The first to come, Henry Smith Simonton (Jr) (arrived 12/31/1839) and Robert S. Simonton (arrived 12/31/1839) each received conditional land grants in Sabine County, Texas, near the Louisiana border on 1/1/1840. They did not reside on these grants long enough for them to became unconditional.


Robertson/Brazos County, Texas - Simonton Family Republic of Texas Land Grants

Henry Smith Simonton, Sr., Henry Smith Simonton, Jr., Robert Simonton all arrived in Texas by 12/1839, and Theophilus Simonton arrived by 5/1840. They settled in Robertson County which was formed in 1838. Brazos County was formed from Washington County and Robertson Counties in 1841. William Simonton arrived in Texas prior to Jan 1, 1842. They brought their families from Alabama, using ox carts to carry their possessions. All five men received unconditional land grants in Brazos County, Texas.
1 - Robert Simonton, Theophilus Simonton, Estates of Henry Smith Simonton, Sr. and Henry Smith Simonton, Jr.
2 - William Simonton

Henry Smith Simonton, Sr. died in Robertson County Texas before September 2, 1844, leaving his estate of land, slaves, personal property and animals to his wife and executrix, Mary (1). Henry Smith Simonton, Jr. also died before September 2, 1844.

This family had two daughters, Jane and Mary Teresa. On May 18, 1841, in Washington County, Texas, Mary married Richard C. McLester, who had accompanied the Simontons to Texas. The couple returned to Tuscaloosa, Alabama with Jane. In Tuscaloosa Alabama, on November 9, 1847, Jane married James A. McLester, Richard's brother.

On December 24, 1845, Theophilus Simonton married Caroline F. Moore in Robertson County. (2)


Fort Bend County, Texas

Further south on the Brazos River in Ft. Bend County, the 1850 U.S. Census finds these Simontons in the same household: Mary (age 65), T. (male age 29 ), Caroline (age 21, (b. in TN)), and James (age 35, b. in NC). This is the first official record of Henry Smith Simonton's son, James, in Texas.

..........


Before the Civil War, the Ft. Bend County property tax records say that Theophilus and James Simonton had 105 slaves and about 4,000 acres of land where they raised corn and cotton. This old house was near the south east corner of 1093 & 1489 in Simonton, Texas, in the Thomas Westall Survey, a part of the original Simonton Plantation.

The Thomas Westall Survey was north of the winding Brazos River and west of the county seat at Richmond. It is near the league of Jane Long, who is often called the "Mother of Texas".


The minuscule town of Simonton, Texas, which was famous for its rodeo in the 20th century, is named after Theophilus and James Simonton . And Tell Of Time, a novel by Laura Smith Krey (1938), is about an ante-bellum Brazos River plantation family, generally believed to be the Simontons of Ft. Bend County, Texas.
Another of Henry Smith Simonton's sons, Joseph C. Simonton, came to Ft. Bend County Texas after 1850 with his wife and family. They are there in the 1860 US Census. Joseph and Jane Julia Byers were married in Iredell County, NC. They lived in Tuscaloosa, Alabama and Iredell County, North Carolina before settling in Texas.

On January 4, 1864, Joseph, James, and Theo Simonton wrote General J. B. Magruder that they were about to place in Confederate service about 40 negroes, in accordance with his last call for negroes. The three brothers did not enlist in the Confederate military, but this donation of slaves to the Confederate cause was certainly a material contribution to the cause. After the war, on July 19, 1865, in Houston, Texas, James Simonton signed an amnesty oath to the United States of America.

After the Civil War, the Ft. Bend County Simontons were Jay Birds, a group of white men who exercised some control over the black administrators during Reconstruction (3). Theophilus died a millionaire on February 2, 1867, leaving the guardianship of his two sons to his brother James in his will. Several years later, James and Joseph Simonton lived on two adjacent 160 acre tracts in the Nathan Brookshire Survey north of Simonton in Ft. Bend County (4).


Montgomery County, Texas
William Simonton and his brother Robert Simonton turned up southeast of Brazos County in Montgomery County, Texas, where they established their families. Most of the information about them comes from official records, like census, probate records of their decedents estate, and newspaper articles. The Simonton line started by William continues in Montgomery County, Texas to this day. It didn't hurt a bit that the vast Conroe oil field was just down the road apiece. A family treasure is a large desk that legend says was brought to Texas from Alabama on an ox cart. Some Montgomery County Simontons were elected to office or worked for the government. Others were bankers, lawyers, retailers, ranchers, and several held oil interests in Montgomery County..
Robert Simonton and Suzanna D. White married in Montgomery County, Texas in August, 1841, and had nine children. According to the Texas Muster Roll Index cards, Robert enlisted on September 25, 1863, at the age of 48, as a Private in the Confederate 17th Texas Infantry Regiment for 6 months. This regiment fought in the Red River Campaign defending the NE border of Texas from Federal invasion. He died in 1863. One of his descendants, Mrs. Katie Dean Hill, was the Vice President of a Conroe, Montgomery County, Texas, bank as late as 1980.
My g.g.great grandfather, William Simonton, married Eliza Melinda Halbert in Tuscaloosa, Alabama. She was the granddaughter of American Revolutionary patriot, William Anson Halbert of Virginia, who moved to South Carolina after the revolution. William Simonton was an Alabama State Representative for Tuscaloosa. William, Eliza and their children were in Texas by 1842. After he moved, William Simonton, was sued by the Bank of Alabama, and a Montgomery County, Texas Court made a decision in his favor in 1845.(5) He served as the Chief Justice of Montgomery County, Texas until his death.(6).

William Simonton died in 1859. He left a widow, Eliza, and 5 children. The ages and names on Wm. Simonton's family plot in Montgomery County, Texas, are consistent with the 1850 US Census information for William Simonton's family, except for William's birth date. William's gravestone in the Old Methodist Church Cemetery in Montgomery on Hwy 105 says he was born 12/18/1796, but his 1850 census age of 43 indicates a birth year of 1807.

William's son, Ruben Davis Simonton was born and died in Texas (ca 1842 to 1900). He was named after his mother's prominent brother-in-law, Reuben Davis, who became a Confederate Major General in the Mississippi Militia. Ruben Davis Simonton was a bugler and a sergeant in Company K of Terry's Texas Rangers (7) during the Civil War. He was known as "R. D", and always rode a mule.

Eliza M. Halbert Simonton's brothers were Texas Confederates. These uncles of R. D. Simonton were Capt. Lucius Nash Halbert, Company B, 4th Infantry Texas State Troops (Brennan, Texas) and Capt. Joshua Long Halbert, Company E 15th Regiment Texas Infantry (Corsicana, Texas).

R. D.'s brother, Lucius Halbert Simonton, was a corporal in Company A, Mann's Regiment, Texas Cavalry (Bradford's) and Company A, 24th/25th Consolidated Regiment, Texas Cavalry during the Civil War. He died in 1865 and is buried with his mother and father in the Old Methodist Church Cemetery in Montgomery on Hwy 105.
..........

The Arnold-Simonton cottage in Fernland Park in Montgomery, Texas. It has a Texas State Historical Marker and is listed on the National Registry of Historical Places.

This Greek Revival cottage built in 1845 was Dr. E. J. Arnold's second home in Montgomery, Texas. Dr. Arnold died in 1857 leaving a widow and three daughters, Francis, Evaline, and Louisa/Ludy. (8)

In December, 1865, William Simonton's son, Ruben Davis Simonton, married Dr. E. J. Arnold's daughter, Ludy, who was well known for her musical abilities. Ruben Davis, Ludy, and their descendants lived in Dr. Arnold's home. Many years later the home became the City Hall of Montgomery, Texas. It was placed in the Park after a new City Hall was built.
After Reconstruction, R. D. Simonton was elected Sheriff of Montgomery County, Texas, (1882-1888). He was also a member of Masonic Lodge #25. The Sheriff and his wife, Ludy Arnold, had a daughter named Laura (1870 US Census) who married R.D.'s good friend and my great grandfather, Samuel N. Beard (d.1916), a native of South Carolina. Sam Beard's headstone says he was from Ninety-Six, South Carolina. (9)

Sam and Laura Simonton Beard were active in civic matters and owned a bank, sawmill and the King Hotel in Montgomery County. One son, Louie Arnold Beard, graduated from West Point in 1910, and attained the rank of Colonel in the First Artillery during WWI. After leaving military service, he worked for the Whitney family in management positions. He was at Greentree thoroughbred stud farm in Lexington, KY, and then was at the seed corn facility at Greenwood Plantation in Thomasville, Georgia.
| | | |
| --- | --- | --- |
| | .......... | Sam and Laura's youngest daughter, Frances Beard, married 2nd Hannibal H. Scott, the grandson of Texas Lt. Gov. George D. Neal of Navasota, Texas. The Scotts lived in Lt. Gov. Neal's home at 504 Church St., Navasota Texas, after retiring from Exxon. It has a Texas State Historical Marker commemorating Lt. Gov. Neal's life. |


....


MY MOTHER - LOUISE RALLS


Sam N. Beard (d.1954), another son of Samuel N. Beard and Laura Simonton, was a 32į Mason, and Master of the San Jacinto Masonic Lodge #106 in Montgomery Co., Texas. He married Grace May Ballard in 1913, in Montgomery County, Texas. Grace was the only child of Houston accountant Walter Ballard and his wife Gertrude Macomb. The couple lived in Willis and had one child, my mother, Grace Louise Beard.


In the 1920's the family moved to Houston where Sam Beard held several positions that utilized his accounting skills, including Secretary-Treasurer of Fostoria Oil Company and Treasurer of Trinity River Lumber Company. After his death, his widow, Grace, pursued a successful career as a Houston Realtor.


My mother, (Grace) Louise Beard, graduated from San Jacinto High School in Houston. She married my father, George Alva Ralls, Jr., in 1935, after he graduated from Texas A & M and received a Commission in the U S Army Reserve. (He was also a San Jacinto High School graduate.) After 30+ years in the U S Army he retired as a Lt. Colonel. Then he and my mother worked together in real estate in Houston until death found her early in 1975.



---
FOOTNOTES
(1) Mary Byers is mentioned in the 1833 Iredell Co. NC deed records in Book Q, page 73 (pertaining to Estate of Washington Byers, deceased) as the wife of Henry F. Simonton. His middle initial, F, is probably a transcription error and should be S. The 1819 will of Joseph Byers, Sr. (and several other Byers' wills) mentions Polly Byers, the daughter of Joseph's brother James Byers, as Henry Smith Simonton's wife. Their son Joseph was also mentioned in Joseph Byers, Sr.'s will. Polly is a common nickname for Mary.

(2) From Texas census, and the marriage, tax and probate records of Robertson County, Texas. 1840-1845.
(3) The Jay Bird Democratic Association of Fort Bend County: A White Man's Union by Pauline Yelderman.
(4) From US census, tax, deed and probate records of Ft. Bend County, Texas.
(5) District Court Records, Montgomery County, Texas.
(6) William Simonton was listed as Chief Justice in the Marriage Records of Montgomery County, Texas. He is also the Judge of record in County Probate cases.
(7) He is listed as a private on the muster rolls of Terry's Texas Rangers, the 8th Texas Cavalry originally commanded by Col. Terry from Ft. Bend County, Texas.
Records in the National Archives show that he enlisted as a bugler, was promoted to sergeant, and was paroled at Vicksburg, Mississipi. The muster roll also mentions that he was wounded in the war. http://www.fold3.com/category_19/
(8) Dr. E. J. Arnold and his wife, Rhoda Ann Warner, were from Haddam, Middlesex, Connecticut originally. They were married there in 1835. Epaphras J. Arnold, M.D. arrived in Texas after October 1,1837, and received a 640 acre Republic of Texas land grant in Montgomery County, Texas on September 23, 1839.

E. J. Arnold, M. D. donated land for the Montgomery Academy and Masonic Lodge #25 in Montgomery, Texas. He was an early member of this Lodge. Texas President Sam Houston (later U.S. Senator and Governor of Texas) was present at the organization of this masonic lodge on April 5, 1845. (Gov. Sam Houston came fairly often to Montgomery, Texas. Opposed to secession from the union, he made a famous speech on this subject at a barbecue in this town in 1859. The citizens of Montgomery voted with Houston but were outnumbered on the State level. Their men served the South with great loyalty and bravery.)
(9) Samuel N. Beard was the son of Martha Powers and Henry Beard. Henry and Martha Powers Beard are mentioned in DAR lineage book. William Powers of Virginia was the patriot. Henry Beard owned real estate, personal property, and slaves in 1860 US Census of Ninety-Six, Abbeville Dist./Co., SC.

Samuel M./N. Beard was three years old in the 1860 US Census of Ninety-Six, Abbeville Dist./Co., SC and 12 years old in the 1870 US Census of Ninety-Six, Greenwood Co., SC. Same location, new County name. (Greenwood County was created from parts of Edgefield and Abbeville Districts/Counties.) In the 1880 US Census, Samuel Beard was in Brazos Co,

---

R. D.'s second cousin, Robert Simonton Gould, left Alabama and pursued a legal career first in Mississippi then in Texas. His first term as a jurist was interrupted by the Civil War. He served in the Confederate 6th Texas Cavalry (Gould's) Battalion during the Red River campaign protecting the NE border of Texas from the Federals, and reached the rank of Colonel. When the war was over, he returned to the law and was elected to the Texas Supreme Court for several terms. He was appointed Chief Justice by Gov. Oran M. Roberts, serving in this position 1880-1882. He accepted a professorship at the new UT Law School and taught there for 20 years. He died in 1904. (Robert Simonton Gould was the grandson of Henry Smith Simonton's older brother, William Simonton, Jr. and Margaret Knox of Iredell County, NC, where he was born to their daughter, Zilpha Simonton Gould and her husband Daniel.)
Other notable Confederate descendants of the Iredell County, North Carolina Simontons:

Col. John M. Simonton - 1st Mississippi Infantry Regiment - Shannon, Itawamba Co., Mississippi

Col. Charles Henry Simonton - 25th South Carolina Infantry Regiment - Charleston, Charleston, South Carolina.. Was a U.S. Federal Judge after the Civil War.

Major Absolem Knox Simonton, Jr. - Iredell Blues - 4th North Carolina Infantry Regiment - Statesville, Iredell Co., North Carolina - Died at Seven Pines, Va.

Commissioner William Davidson Simonton - Haneyville, Lowndes Co., Alabama
---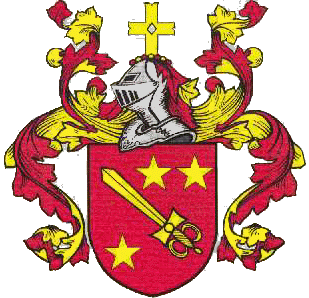 The family is thought to be descended from the Barons of Symington in Ayrshire and Lanarkshire, Scotland. The original Barony of Symington was created and given to Sir Simon Lockhart in 1165. However the Lockharts must not have supported Robert De Bruce, for he awarded the Barony to his supporter, Thomas Dickson (or his eldest son), who was then required to use the surname Symington.
Thomas Keith, also known as Thomas Dickson, was the son of Richard Keith and the nephew of Robert Keith, Great Marischal of Scotland and hero of Bannockburn. Because of his bravery in battle during the Scottish war for independence (ca. 1295 to 1314), Thomas Dickson was given his own Clan Dickson, a Sept of the Keith Clan. His Grandmother was Lady Margaret Douglas.

Thomas Dickson fought the English with his cousin Sir James Douglas (the Good) and William Wallace before 1300 AD and was rewarded by King Robert de Bruce ca.1306. On Palm Sunday In 1307, he died helping Sir James Douglas in a battle with the English.

The Symington and Dickson Clans are both Septs of the Douglas Clan.
Three hundred years later, John Symington, Baron of Symington, sold his property in Scotland, and he and his four brothers disappeared. About this time a Scot named John Simonton acquired 1,000 acres in Tyrone County, Ireland. Later the name Simonton appears in Presbyterian Church records in County Down, Ireland.
The founders of my branch of the Simonton family, Theophilus Simonton and his wife Mary Smith Simonton, came to America from Ireland in the early 1700's, as did thousands of other Scots-Irish. So it is possible that the Baron of Symington is an ancestor of this branch of the Simonton family.

LINKS TO HISTORY - Simonton family migration to America and DNA

Many thanks to Jaclyn Keasler Helmke, and her husband Vernon Helmke. Their extensive Family History of the Simonton Family and Related Families gave me solid information about this family from Ireland. The documentation they provide for Mary Smith and Theophilus Simonton in Delaware and Pennsylvania bridges the Atlantic gap and provides a firm foundation for this American branch of the Simonton family. The many years they spent searching records was a real boon for me as I searched for official documentation to prove my line. The needed documentation was where they said it would be.


The author of the above article is Marilyn Ralls Johnson, Bellaire, Texas. Email mj@marilynjohnson.info


---
THE SYMINGTONS AND THE DOUGLAS FAMILY


THE SYMINGTONS - THEIR PART IN SCOTLAND'S HISTORY
by Carol Symington (New Zealand)
"The Paton history made me curious as to how the Symington family fits into the wider context of Scottish history. Having scoured the shelves of Auckland's libraries for suitable reference books, (not an extensive collection), I have written this amateur potted history of the times during which the Symingtons held their barony, the hereditary title of keeper of Castle Douglas, and the offices of sherrife-depute and bailie in Lanarkshire.

Except for the incident of Douglas Castle I have been unable to find any further references to the Symington family, the barony, or Thomas Dickson. Auckland City Library does not a have a large section of books on Scottish history! Maybe someone living in England or Scotland can find more references than I have been able to. However, the rise and fall and rise of the Douglas family is well documented. Because the Symingtons became the hereditary keepers of the Douglas family castle it must be supposed that their fortunes were linked to that powerful family.

When the Black Douglasís fell, the Symingtons appear to have retained their keepership of the Castle, and later were given more power by the Red Douglasís. John Symington is mentioned as being Captain of Douglas Castle in 1488 and in that year was appointed Bailie (magistrate) of Douglas by Archibald, Earl of Angus. This minor Castle remained close to the Douglas heart - many of the family were buried in the parish church,

Black Douglas: Sir William Douglas had been a supporter of King John Balliot and had died in an English dungeon. His son, Sir James Douglas joined Robert the Bruce and led many daring raids against the English. He gained the name "Black" from the terrified English living in the border area. After Robert became king, James was granted extensive lands and titles. While taking Robert's heart on a crusade in 1330 he was killed in Spain. His nephew became the first Earl.

Robert Bruce's son David II (1329-1371) was a weak king and for the next 100 years a pattern of stagnation and mayhem held sway. Warfare and pillage were endemic. People flocked to the protection of a powerful baron, and the power of the barons increased. The Douglas family made good marriages, which bought them more land and in time they controlled vast estates and their wealth and influence threatened the Stewart kings.

Robert II (1371-1390), the first Stewart king ruled well for the first six or so years of his reign. But he developed senile dementia and became physically weak. Disorder flourished. Chroniclers speak of "Horrible destructionís, burnings and slaughters done though all the Kingdom". (4) During this period Paton notes that Thomas Symington granted a charter of some of his lands to Thomas Cranston (1382).

Robert III (1337-1406) was a weak depressive, 'there was no law in Scotland. The strong oppressed the weak and the whole kingdom was a den of thieves'. (10) During the Regency of 1406-1420 the powerful nobles were unopposed. Lawlessness was a way of life. "The Douglasís robbed the Exchequer of its custom revenues with impunity' (4). The 6th Earl Douglas was known to travel with a retinue of at least a thousand armed retainers reputed to have been mustered from thieves and murderers (5). In 1419 William of Symington Lord of that Ilk was Captain of Castle Douglas.

Before he was murdered in 1437, James I (1424-1437) had begun to regain regal authority. The new king, James II (1437-1460) was six years old. Another period of Regency followed. Sir William Crichton was the most powerful of these Regents. In 1440 Crichton arrested and beheaded William, the teenage 6th Earl Douglas, and his younger brother. In this he had the co-operation of Douglasís uncle, James the Gross, who inherited the title but who died three years later.

During the period of the king's minority neither the Regent nor the Queen Mother were ever the real powers in the land. The Black Douglasís and their allies were far more powerful. They were extremely wealthy, and well connected by marriage; enough to be considered possible contenders for the throne. During 1450-51, while Earl William Douglas was in England, the king took the offensive against him by besieging his castles, and slaying a number of his tenants. Douglas returned and it seemed that he and the king had reached a compromise. However, Douglas was tempted to threaten the king by harrying and killing the king's supporters, even his relatives.

One history (2) tells of a tutor (guardian) of the heir of some lands who refused to support Douglas. He was imprisoned in Douglas Castle. His uncle obtained letters signed by the King asking Douglas to deliver him. The uncle was courteously entertained at dinner, (by Baron Symington?) then told that he could take back the body, which unfortunately lacked a head.

Determined to take control, King James invited Earl Douglas to dinner under safe conduct and at the table knifed him to death. The 9th Earl, after burning and looting Stirling in revenge, was exiled and forfeited his estates in 1455. Others of the family were captured and killed. The Black Douglas family had been destroyed. It is noted that during this time all of the Douglas Castles except Threave were levelled to the ground. 'The Douglas wars brought great pestilence and mortality throughout the whole kingdom.

Red Douglas: After the accidental death of his father, James III (1452-88) became king. Taking advantage of another period of minority and civil unrest the Red Douglasís, the junior branch of the family, "rose upon the ruins of the Black" (1) and by 1474 had regained the power once held by the Black Douglasís. In 1476 John Symington was Captain of Castle Douglas (Obviously re-built).

Archibald Douglas, Earl of Angus, head of the Red Douglasís, played a leading role in the overthrow and death of James III in 1488. In that same year Archibald, Earl of Angus, appointed John Symington bailie of his lordship of Douglas. He is thought to be Sheriff depute of Lanark 1478 and 1490. (The sheriff acted as the king's local judicial, financial and administrative representative. The sheriff court was held at the baron's castle).

James IV (1473-1513) was killed while fighting the English at Flodden Field in 1513, along with thirteen of his earls and thousands of soldiers. The Earl of Angus promptly married the widowed queen and took the baby King James V (1512-42) into his care. Another intrigue-filled Regency followed.

By 1526 James was declared ready to govern - but to all intents he remained a prisoner of the Douglasís. The Hamiltons, the only real opponents of the Red Douglasís, had been routed and slaughtered in a battle on the main street of Edinburgh in 1520. And so Archibald Douglas ran the country as he wished until the boy king escaped from him in 1528.

James vowed that Scotland would not hold him and the Douglas's. The Earl of Angus was driven into England. (To return sometime later). However, during this period those Douglas "henchmen", the Symingtons, appear to have survived. William Symington is styled Captain of Castle Douglas, and bailie of the lordship of Douglas.

In 1538 Archibald Symington granted a charter of part of the lands of Symington to James Hamilton. In 1541 he "had a charter to himself, as heir and successor of John Symington of the Ilk, his great grandfather, and Christian Baillie, his spouse, of the lands of Hazelside and others, erected into the barony of Symington with the offices of Bailie of the Lordship of Douglas and Captain of the Castle of Douglas."

The reign of James V lasted only until 1542. He died leaving a baby, Mary, to inherit the throne. A tumultuous period of Regency followed. Both the English and the French kings attempted to marry Mary to their heir. At the age of fifteen she married the Dauphin. At eighteen she became Queen of France. But following the death of her sixteen year old husband Mary reluctantly returned to Scotland as Queen.

Her six-year reign was a disaster for her and for Scotland. She had no concept of Scottish politics, and scandals surrounded her. She was Catholic in a land which had become firmly Protestant. Mary was forced to abdicate in 1567. In 1556 John Symington was infeft as heir to his father in the barony of Symington and the offices of bailie of Douglas and keepership of the Castle of Douglas.

The new king was Mary's son James VI, (1567-1625) one year old. Until he took control in 1583 he was fought over and seized by rival Regents, including the Douglasís. He proved to be a clever, astute king who gradually made himself acceptable as the heir of Elizabeth I of England. Upon her death in 1603 James became king of both countries. He lived in London where he said about Scotland 'Here I sit and govern with my pen ....which others could not do by the Sword.' From 1597-1637 Scotland was at peace.

The reign of Charles I (1625-49) led to anti-government violence in Scotland and England. John Symington succeeded in 1605. In 1616 he entered into an agreement with the Earl of Angus, whereby he resigned the offices of Bailie of Douglas and Captain of Douglas Castle: but resignation was not made until 1621.

(The family seems to have maintained close relations with the Douglasís. It is noted in the Register of Deeds 1607, that Margaret Symington, daughter of John Symington, had received a legacy bequeathed to her by the deceased Archibald, Earl of Angus).

John Symington along with his father fell into great monetary difficulties and between 1630-1648 sold the lands of Symington. The Douglas title became extinct in 1703."

Main References: A Concise History of Scotland; F McLean, Scotland-the Making of a Kingdom; Voll&2, Robert the Bruce; R Scott, Castles and Strongholds; Muir, Robert the Bruce a Scots Life; Telfer, Scottish Local History; Moddy, Highlanders; F McLean, Collins Encyclopaedia of Scotland, The Stewart Dynasty; S Ross.